I'm always here for a good celeb scandal, but I feel personally pissed the F off about this one. In light of the Khloe Kardashian/ Jordyn Woods drama that has been taking over the god damn internet universe, I would like address to how f*cking stupid people are.
Incase anyone lives under a rock, I'll fill you in on the Jordyn Woods/Tristan Thompson/ Khloe Kardashian/Kylie Jenner scandal.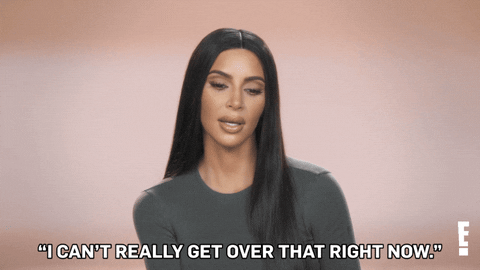 Trashcan Tristian Thompson is baby daddy to the queen Khloe Kardashian's beautiful daughter, True. Khloe K is sisters with youngest female billionaire Kylie Jenner, whom is BFF's with recent upcoming model/ hoe of the year Jordyn Woods. Jordyn has been basically in the Kardashian/ Jenner family for almost a decade after becoming best friends with Kylie Jenner from Will Smith's son, Jaden. She has been inseparable from Kylie for years- they live in the same giant Calabasas mansion, she helped Kylie try and start a god awful spin off Keeping Up With The Kardashian "Life of Kylie", used Kylie's money to get famous through her Lip Collection and Khloe's thiccc girl clothing line Good American to launch her modeling career. She's been to family weddings, vacations, even babysat the f*cking kids, okay? Like this bitch is family.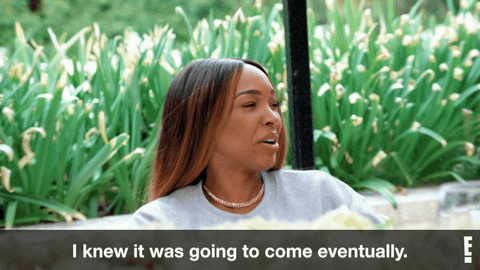 Taking it back a lil' bit, not too long before Khloe gave birth to baby True, word had come out that Tristan cheated on her with some random bitch at a club. That scandal broke fire in the Kardashian cult family, and left everyone with the same mutual feeling: Tristan Thompson is a piece of shit.
So last week another story broke out about about Jordyn Woods being the new bitch at the club that he cheated with. Jordyn was partying at Tristan's house until 7am after a long Sunday of "LA culture." There was rumors circulating about a make out session, lap dances, sleeping together, some even that they had been dating for the last month behind everyone's back. Let me tell you, the people were fired up about this one.
In between the release of the story and today, lots of shit I really don't have time to explain to you so you'll have to look yourself happened, and Jordyn and Tristan were both getting copious amounts hate on every social platform and in person (check your DM's, Jord, my group chat has a few words with you in there, too😉)
But Friday, Jordyn Woods appeared in an interview with Jada Pinkett Smith on her Facebook talk show 'Red Table Talk."
This interview. was. interesting and I have a few things to f*cking say about it, so let's have a recap shall we?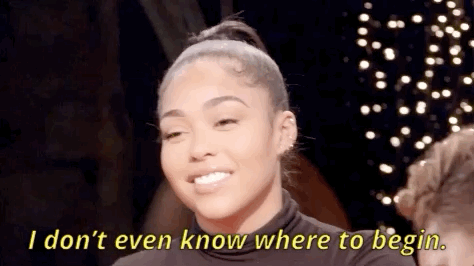 Jordyn and Jada sit down with dramatic lighting at this tiny red table, and starts off her "truth" by explaining her Sunday night going out for drinks at a bar with a couple of her friends, who were clearly shitty ass friends using her for her "fame." She said Tristan was there, but he was 'doing his own thing.' Not sure what that means, but we're here to listen.
Tristan apparently had people over his house after hours to continue drinking, partying, and dancing. When Jordyn got the invite to go (not even through Tristan.. weird but okay) she said she went without giving it a second thought. Jordyn admitted that at the time she didn't think anything of it but now realized she shouldn't of been there in the first place. Little late for that, Jord.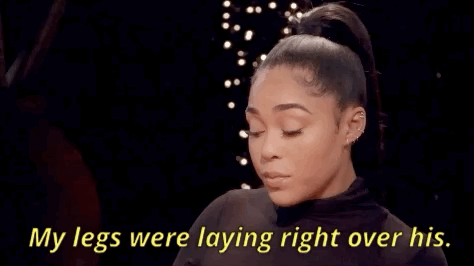 She then gets into explaining the party scene at Tristan's house. Now, this part really gets me. A direct quote from our girl herself: "Never once was I giving him a lap dance, making out with him, sitting all over him…" The interview then emphasizes how there was 'no lap dance' but then Jordyn explains how she was sitting on the arm of a chair Tristan was sitting in, with her feet dangling over his.
Let's back it up here for a hot second people. For f*cks sake, is she serious? That is not innocent. If one of my girls was playing floating footsie with my baby daddy, they would be dead in the water.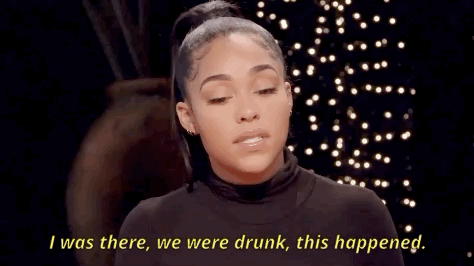 Although she denies playing victim to this self inflicted drama, Jordyn says she understands why people are making these assumptions. She tries to back herself up and say she's been on this 'partying binge' where she often stays up till 7 am at parties. Hey Jordyn, do you even drink?
This is next part of the story is where she claims it gets tricky, aka she's lying through her million dollar smile. You better believe I was sitting straight up in my chair, headphones on full blast during my busy day work for this shit. So Jordyn says once she lifts her head from Tristan's lap realizes the sun was up, she decided it was time to take herself home, aka back to Kylie's house. She says that on her way out, Tristan offered for her to stay because it was 'safe' (which is an entirely different concern that I have to address some other time.)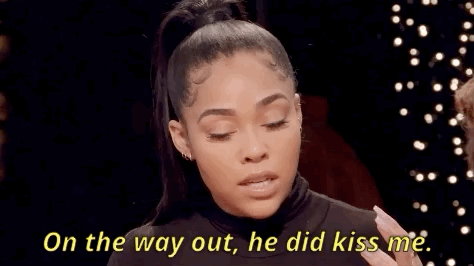 She admits she was drunk but understood everything that was going on, including that Tristan kissed her on the way out. Why in gods name would he kiss you if this was just a friendly situation? J low key slipped up and said T was 'caught up in the moment,' but what moment are you talking about Jord? If the night was as innocent as you are portraying, then why would he even consider "shooting his shot"?
She continues to f*ck up when she straight up lies to Kylie and Khloe's faces the next morning when they asked about her night. She said during the interview though that she now knows that being dishonest was wrong- at least you're not dumb enough to pretend like that was smart, two claps for you Jordyn!
Jada then ignores virtually everything that Jordyn has claimed this entire bullshit interview when she asked her "Did 👏 you 👏sleep 👏with👏 him?" Jordyn says no… I don't buy it.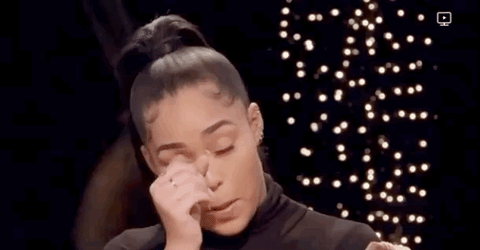 She starts playing a lil' bit of victim game when she explains the hardships of this public humiliation she is going through, which is definitely tough there's no denying that. Online followers can be brutal, everyone's guilty of it, and some people need to take it down a notch, for sure. I don't think it shouldn't involve Jordyn's family, or death threats to her at all. Chillllll out people.
The interview concludes with Jada telling the media and trollers of the internet (@ me next time) to calm the f*ck down and support Jord with 'love and kindness' to help her heal. No can do, boo.
The backlash from this interview has people shook to the core on who the hell to believe, and honestly Jordyn gained some supporters. People gave Koko hate for her tweet blaming Jordyn for the breakup of her family, saying if anything Tristan is the one to blame. I agree with this, but it takes two to tango people. Khloe then took to Twitter to address these remarks saying that Tristan is to blame, too, but she's trying to keep it cool for the sake of the family. Khloe may have some Love Goggles on, because it's looking like Tristan has her wrapped around his finger… smh.

She ended her rant by saying how hurt she truly is more by the betrayal of someone who is like a sister rather than the scum man she had her baby by. She concluded by saying she is going to move on and count her blessings. Amen sista. Don't we all wish it was that easy.
Moral of this overly talked about scandal is Don't Be a Jordyn Woods. Girls, guys, don't ever put yourself in ANY situation where you would even have this type of skepticism, especially if its your best friend's sister's baby daddy.
I think we can take a valuable lesson away from all of this: keep it in your god damn pants and respect those who mean the most to us. Is that really so f*cking hard?
Mic drop.
xoxo,
Love Goggles