Okay folks I'm fired up about this one so sit back and relax while I vent about a topic that really bothers me. Like, to my core…
Bitches. On. Instagram.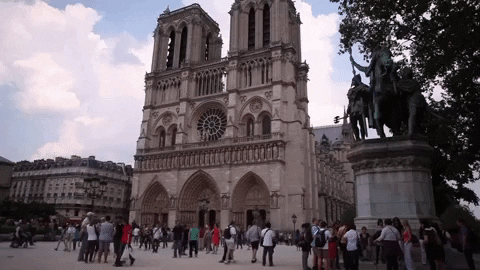 So last week Notre Dame Cathedral caught on fire, an absolute tragedy. There have been millions of dollars donated to help fix the destruction that unfortunately occurred to such a beautiful and historical landmark in France. But it occurred to me (and obvi other Instagram users as well, there was even a meme written about it) that girls seem to almost abuse this tragedy for… likes. Let me explain.
At first, my feed was filled up with news-like posts from some of the certified magazine and entertainment accounts I follow like Cosmopolitan and Marie Claire. These were more informative, explaining what happened, etc. But then, I started seeing girls posting pictures of the Cathedral or tourist photos that they took on their all-daddy's-credit-card paid trip to Paris.
The captions were like "OMG most gorgeous building I've ever seen, so #blessed to have seen this beauty in person! Can't wait to go back" and the pictures were of them in Paris wearing some boujee AF outfit, not even of the Cathedral itself. I'm like, laughing at how f*cking sad some girls are to get some likes.
Like, really bitch, you probably spent 10 minutes inside, or walked around it, snapped a pic walking by, like you did not think twice about Notre Dame until this happened. Which is sad, because this place means so much to so many people- tourists included don't get me wrong, but it annoys me to see people almost abusing its beauty for Instagram attention.
But I can almost guarantee that most of the white millennial generation chicks throwing up IGs did not give a single f*ck about it until they realized it was prime Instagram material.
This Insta-trend is getting out of hand. Another prime example, a few days ago was #EarthDay, a day dedicated toward appreciating the planet we are so fortunate to live on. The day is supposed to be dedicated toward doing something good for the planet- planting a tree, cleaning up trash, using less water and electricity, and keeping that habit going for… well, the rest of your life.
And hereeeee girls are. On Instagram. Posting pictures in their itsy-bitsy-teenie-weenie yellow polka dot bikinis, ass cheeks out for the world to see, at some beautiful tourist consumed island, drink in their hand with a PLASTIC straw, being like "I loveeeee the eaaaarth ☀️🌈!!!!!"
Bitch. Please. We see right through you, you do not fool us. You throw your Dunkin' bag out the window on the highway when you're done with your plain bagel toasted with butter, you're sippin' your 'IG perfect' Pina Colada through your plastic straw, you do not recycle because you're too lazy to separate your trash, and we f*cking know you do not turn the lights off when you leave your bedroom.
What you do is "love," is your ass in that bathing suit.
Which is fine, honestly. You want to rock that bikini and post it up, go right ahead. I'm all here for body positivity and girl power. But don't play like you're here for supporting environmental sustainability, when you can't even f*cking spell it.
And let me just make it clear, I am not the most environmentally friendly person, at all. I could really improve in every aspect of it, actually, but I am not going out of my way to post my ass up on Insta pretending like I am the world's lord and savior, you know?
K, that's enough of that rant.
Turn your lights off people, drink out of paper straws, don't be a fake bitch(:
Xoxo,
Love Goggles